Moraira was originally a fishing village on the Costa Blanca. It is located between the popular towns of Javea and Calpe, and is an hour's drive from the airports of Alicante and Valencia. Moraira is a village which has an average of 320 sunny days per year, making it a perfect vacation. In winter it's pretty quiet in Moraira. In summer there is a pleasant buzz without being too crowdy. The terraces are always busy and the shops and the weekly market on Friday are well visited. Moraira is super clean. It has a beautiful promenade and both sand and rocky beaches, with the coveted blue flag. In addition Moraira has a lovely marina, shops and many restaurants. An added benefit is that Moraira is a place where you can still find your peace. There is no high rise buildings and hotels. However, there is plenty to do in Moraira. Besides the beach, the cafes and restaurants, you can go fishing, diving, playing tennis, karting and mini golf. In the immediate vicinity there are opportunities for horse riding and golf.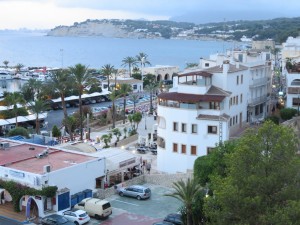 ---
The climate
Moraira has a subtropical climate. This is noticeable from an average ''Moraira year'' that has 320 sunny days.
| Month | Average max. temp. | Average min. temp. | Hours of sun per day | Days of rain per month | Temp. seawater |
| --- | --- | --- | --- | --- | --- |
| January |   16 | 6 | 6 | 5 | 15 |
| February |   17 | 6 | 7 | 4 | 15 |
| March |   19 | 8 | 7 | 6 | 16 |
| April |   21 | 11 | 9 | 6 | 18 |
| May |   24 | 13 | 10 | 6 | 20 |
| June |   28 | 17 | 11 | 3 | 22 |
| July |   31 | 20 | 12 | 1 | 23 |
| August |   32 | 21 | 11 | 2 | 24 |
| September |   29 | 18 | 9 | 5 | 23 |
| October |   25 | 14 | 7 | 7 | 21 |
| November |   20 | 10 | 6 | 6 | 19 |
| December |   17 | 8 | 6 | 6 | 17 |
---
Things to do in Moraira
The landmark of Moraira is the Moraira Castle (Castillo de Moraira). This small fort is a face defining building on the coast of Moraira. It is at the end of the street near apartment Moraira center on the Avenida de la Paz.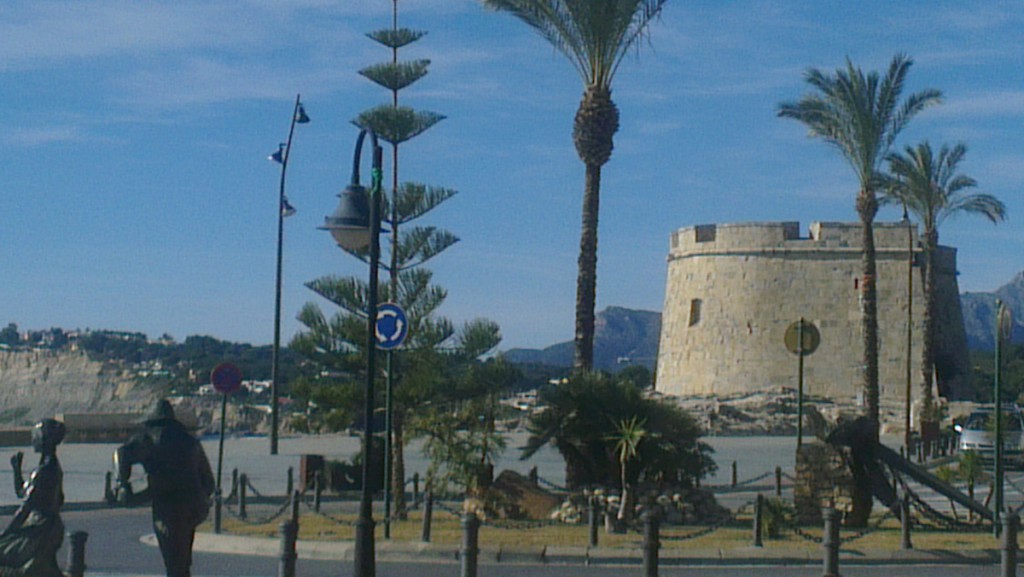 Hikers can walk to the Torre de Vigia. This is an observation tower located at Cap d'Or, on the north side of Moraira. The walk starts at the beach of El Portet, a short distance from Villa Casa Morena. It starts with a steep road up past the houses. The walk turns into a scenic walk through the natural beauty, with stunning views over the sea and Moraira. Really recommended!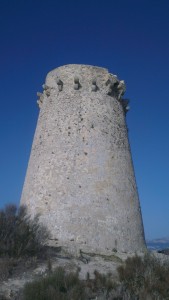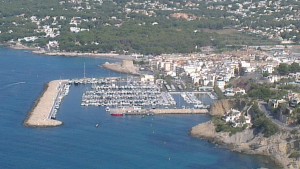 Another attraction is the fish auction in the harbor. The fishing fleet of Moraira has a total of only five fishing boats that catch fresh fish in the vicinity of the port of Moraira. All weekday's fish is sold through the auction of Moraira. The auction (Lonja de Pescado) is located right at the entrance to the port of Moraira. The auction is public and accessible to all.
---
Markets
The weekly market in Moraira is definitely worth a visit. This market is at the end of the street near apartment Moraira Centre. The market starts from about half past eight and is quite busy at the end of the morning. Goods on the market initially seems quite diverse, but if you've seen the whole market do you find out that many articles can be found at several stalls.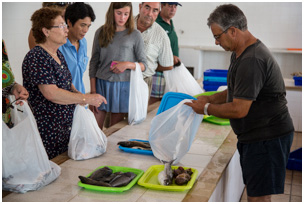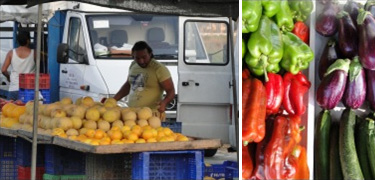 What you see are many booths with clothing, leather goods, bags and accessories like sunglasses, hats and caps. Sunglasses and bags are mainly copies of major brands such as Gucci, Dolce & Gabbana, Dior and Chanel. Pay attention: A bag where they ask for 25 euros for, can easily be bought for fifteen.
Also popular in the market are the Spanish dresses, shoes, Spanish and of course the well-known ranges to provide any coolness on hot summer days.
Weekly markets
Monday Callosa, Denia, Elche, Elda, Jijona, Orihuela, Santa Pola, La Nucia, Parcent.
Tuesday Alicante, Altea, Aspe, Elda, Jalon, Orihuela.
Wednesday Alcoy, Benidorm Campello, Ondara, Teulada, Benitachell, Muchamiel, Novelda, Sax.
Thursday Alicante Cocentaina, Javea, Pego, Rojales, Villajoyosa, Villena.
Friday Alfaz del Pi, Denia, Finestrat, Gata de Gorgos, La Nucia, Moraira Orihuela, Teulada, Torrevieja, Vergel.
Saturday Alcoy, Alicante, Benissa, Calpe, Elche, Jalon, Pedreguer, Ondara, San Juan, Santa Pola, Sax.
Sunday Benidorm, La Nucia, Teulada.
---
Beaches
Moraira has several beaches where you can enjoy the sun and sea.
El Portet:
This beach is 350 meters long and 20 meters wide and is close to Villa Casa Morena. The El Portet beach is sheltered between two headlands, making it a popular beach. Many tourists head there with their little boat to go there and lie to float. El Portet is very suitable for young children. The beach runs quietly. Fun at this beach is that there are opportunities for canoeing and windsurfing.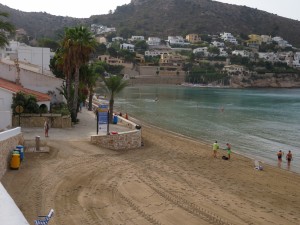 L'Ampolla:
The beach L'Ampolla is located in the center of Moraira, very close to apartment Moraira Centre. This beach is visible from the apartment. This beach is considered the ultimate family beach.
The beach is 400 meters long and 50 meters wide. At the beach is a restaurant, and there is plenty of room for free parking. In the summer months there are opportunities to hire waterbikes. In August there is often placed a large inflatable cushen in the sea. Close to the beach you can also rent watercrafts and jetskis. Compared to the El Portet beach, the sea is slightly rougher.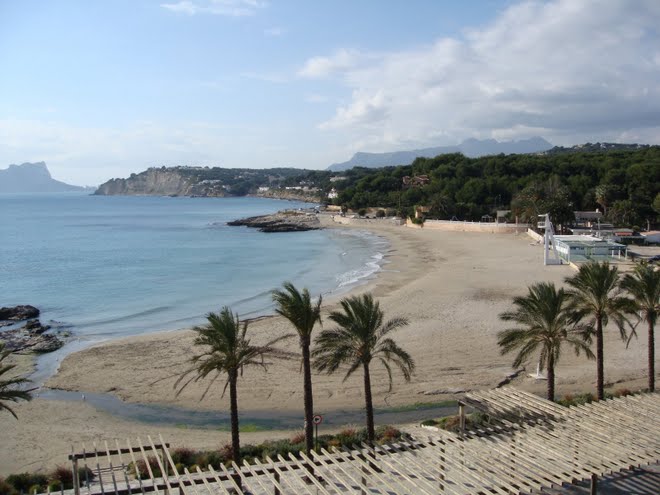 In addition to these two beaches, Moraira still has a few small bays and beaches where you can sunbathe and swim. There is the opportunity to scuba dive and snorkeling.

---
Links
Rent quads                                       
www.mrquad.es
Diving in Moraira                            
www.scubamoraira.com
Waterfall                                      
www.lesfontsdelalgar.com
Waterpark in Benidorm                    
www.aqualandia.net
Themepark
www.terramiticapark.com
Restaurants in Moraira                    
www.tripadvisor.nl
Restaurant/donkey sanctuary
costablanca.voorjou.com/restaurant-donkey-sanctuary/
---
Any questions? Contact us!